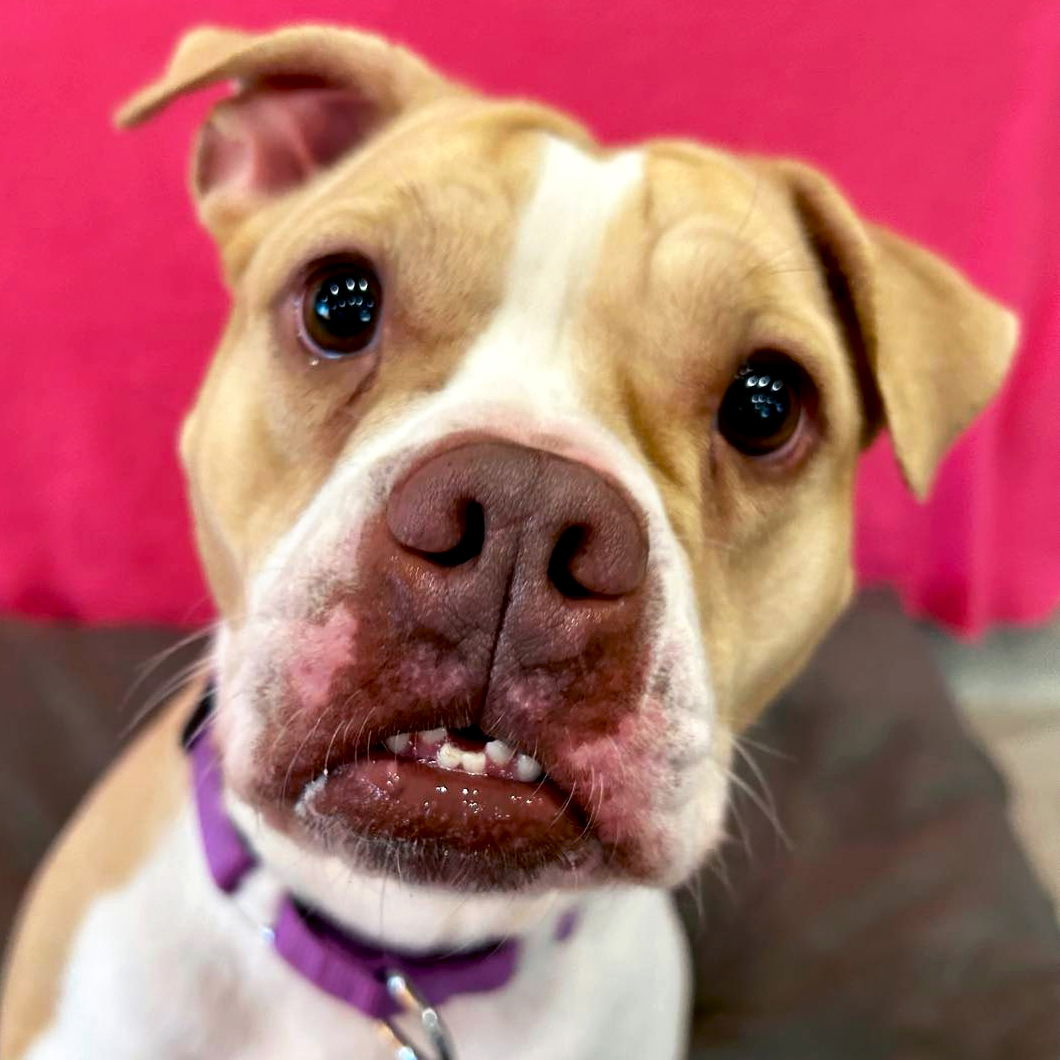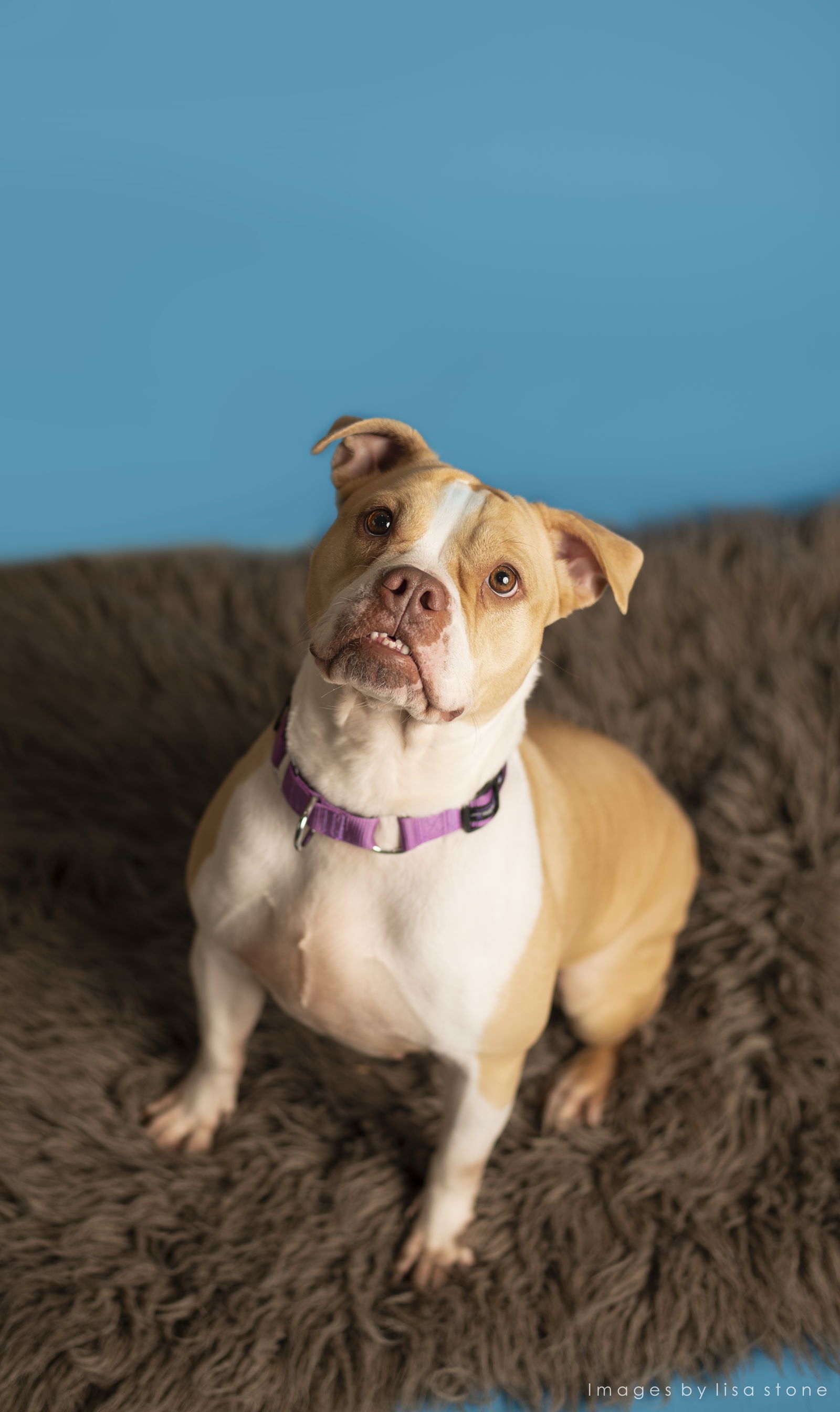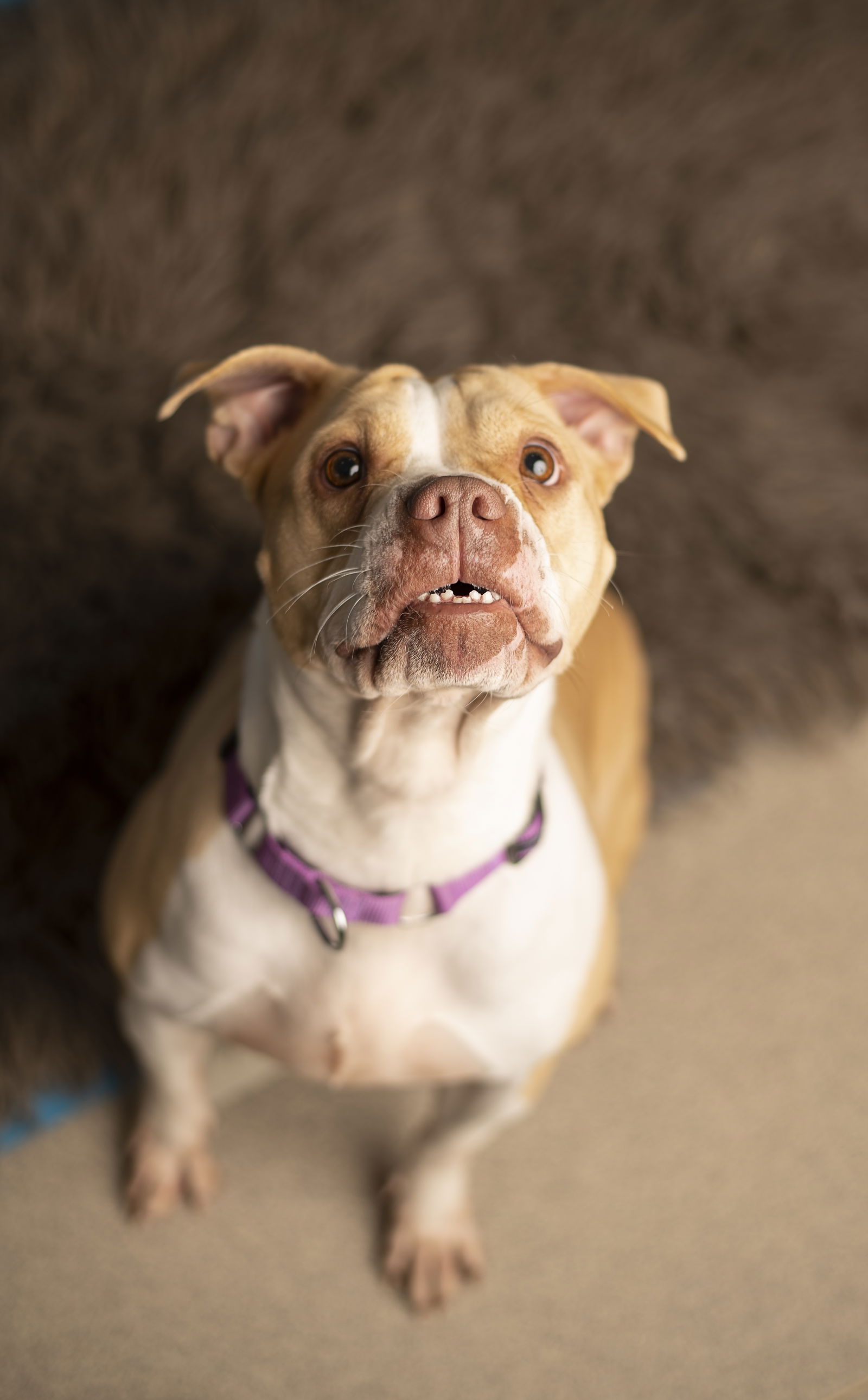 Hi, I'm Fiona - Adoption Fee Paid!!
I'm an adult spayed female tan/yellow/fawn with white American Bulldog / Pit Bull Terrier Mix.
FIONA: Pit Bull mix, spayed adult female, 54 lbs., medium/high energy level, wonderful disposition, "cuddle bug" personality, very friendly, affectionate, and playful, loves people and other dogs, house trained, great leash manners, loves belly rubs and giving kisses, needs daily exercise, knows the commands for sit, down, and paw, approved for families with respectful children of all ages.
I'm a super friendly sweetie with a "cuddle bug" personality. I absolutely love everyone I meet and adore attention, petting, and snuggling. I get along great with other dogs and am very good about adapting myself to other dogs' play styles. I'm so nice I even share treats with my pup friends! I am house trained, have great leash manners, and know the commands for sit, down, and paw. (I'm very food motivated and will happily learn more tricks if you reward me with a tasty treat!). I enjoy running and playing so I need daily exercise, but I also need plenty of petting and cuddling! I love getting belly rubs and giving gentle kisses, and I'm a huge favorite of HSJC staff. I really am an exceptional girl and should be a fantastic family dog. I'm approved for respectful children of all ages and will bring so much love to my forever family!
P.S. Here's a letter from one of Fiona's many fans: "I'm so grateful to have met Fiona at our senior facility. What a love she is, patient, snuggly, soft, and so incredibly sweet, with her cute little underbite and big brown liquid eyes. When I asked her to come sit on my lap she snuggled up, laid her head down and stared up at me. I just fell in love with her! If only I could take her. This sweet girl deserves a wonderful loving home with walks and play, snuggles and so much love! And she did great meeting a group of strangers. Thank you again for bringing her. You made my month. I love her and hope she finds her forever family very soon."
Thanks to a generous sponsor my adoption fee has already been paid!
The online adoption listing websites require that we choose a predominant breed or breed mix for our dogs. Visual breed identification in dogs is unreliable so for most of the dogs we are only guessing at predominant breed or breed mix. We encourage you to select your new companion by considering each dog's individual personality and pet qualities instead of relying on a breed label that is only a guess.
My adoption fee is already paid by a generous sponsor.
I have been spayed, vaccinated, microchipped, and I've received routine treatment for internal and external parasites. I have tested negative for heartworm.
Adopt Me!
If you are interested in adopting me, the first step is to submit an adoption application. You can download an application from the links below, attach the completed application to an email, and send it to the Humane Society of Jefferson County at shelter@hsjc-wis.com. Once the application is received, the approval process will take approximately 1-3 business days and you will be contacted as soon as it is completed. Please contact the shelter at 920-674-2048 with any questions.
Adoption applications: Printable PDF | Online Form
Tweet
Go back to the adoptable animal listings.